---
The flood widget is a tool for determining the flood zones for a property. The flood information is from FEMA. Open the Flood widget by clicking the Flood icon in the LINK-GIS map viewer toolbar. The icon looks like a rain drop.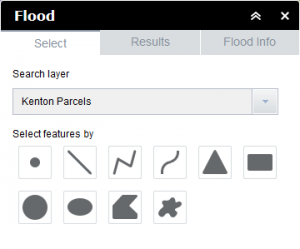 1. Choose the county from the drop down menu at the top of the widget.
2. Choose a graphical selection type. There are ten options to choose from. The operation of these buttons was covered in the search widget section.
3. Once parcels are selected, the "Results" tab (the one that looks like a database table) will list the basic parcel information. Click on one of the records in this table to open the "Flood Info" tab.
4. The "Flood Info" information tab will list the flood information available for that parcel.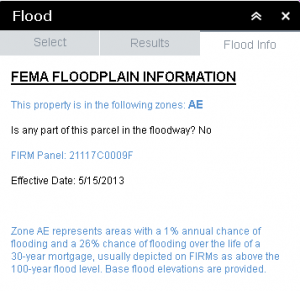 5. Close the widget by clicking on the "x" in the upper right hand corner of the widget, or clicking its icon in the toolbar.