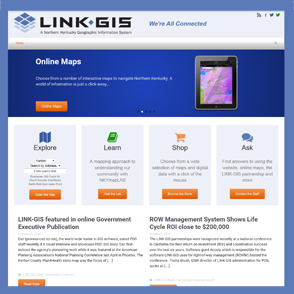 PDS' new LINK-GIS website experienced a 49 percent increase in unique visitors during the first quarter of FY17 compared to the first quarter of FY16, according to Google Analytics. That increase in unique visitors drove an increase in the number of sessions by 70 percent during the same period.
Unique visitors are determined by the IP or internet protocol address of the device that visits the website. Sessions are groups of pages that the user visits before exiting the site, either by going to another site or closing the browsing window.
"Our site's new content works well on mobile devices," said Christy Powell, GISP, PDS' senior GIS programmer. "We're seeing more users across more devices accessing our site. Much of that increase in sessions is attributable to visitors using the interactive maps on their mobile devices."
The main LINK-GIS MapViewer showed a 174 percent increase in sessions for the first quarter of FY17 versus the same quarter of FY16.
Page views have increased by 44 percent during this time.
"Much of this increase is due to additional content we added during the update," said Joe Busemeyer, PDS' principal GIS programmer. "We wanted the end user to have better access to our maps and especially the NKYmapLAB content."
Time spent using the MapViewer has decreased over 30 seconds on average from two minutes three seconds to one minute 28 seconds.
"Quicker load times and easier-to-use tools are responsible for getting answers to users faster," said Powell.
Powell and Busemeyer will use the insights gained from Google Analytics to continue to improve the LINK-GIS website over the next year.