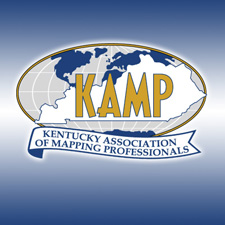 PDS' GIS team earned the 2016 Enterprise System Award at this year's annual Kentucky Association of Mapping Professionals (KAMP) conference held in Covington in October. The award holds up the agency's new custom-built LINK-GIS website as a sleek and easy-to-use location intelligence resource.
The award honors the organization's long and distinguished service to Kenton County, to Northern Kentucky, and to GIS issues across the commonwealth.
Online since July 1, the new website contains over 50 pages of data, links to LINK-GIS map viewers, NKYmapLAB journal entries, and LINK-GIS partner websites.
The site's functions include an all-encompassing master map viewer which allows visitors to view hundreds of GIS layers, find property information, and create printable maps on pre-designed map templates.
"The new LINK-GIS site uses web mapping technology, map services, and ArcGIS Online to create several ArcGIS collector apps which allow for efficiency in collecting field data for our partners," stated Trisha Brush, GISP, PDS' director of GIS administration.
LINK-GIS is a collaborative electronic mapping partnership managed by PDS for Kenton and Campbell County Fiscal Courts, the Campbell County PVA, the Northern Kentucky Water District, and Sanitation District 1.