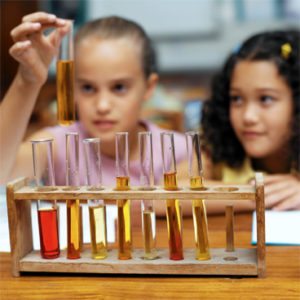 The Northern Kentucky Chamber of Commerce hosted a "Girls Day Out," Science, Technology, Engineering and Math (STEM) outing for girls of junior high age on June 27th. Six companies in the area along with PDS participated in the event: ATech Training, Cincinnati Bell Technology Solutions, Duke Energy, Delta, Messer Construction, and Toyota Motor Engineering & Manufacturing, NA. Over 70 girls participated with an average of eight girls visiting per site.
STEM is an acronym used in curriculum referring to academic disciplines in K-12 and college. The term is used in the US when discussing competitiveness in technology development across the nation. The idea was first introduced in 2006 with an initiative to increase America's workforce talent toward engineering and math.
"June 27th was a great day to be at PDS!" said Trisha Brush, GISP, PDS' director of GIS administration. "We introduced our ten girls to what a day in the geosciences career would be like, gathering data with GPS units and trying their hands at geocaching."
"We showed them LINK-GIS maps and how local geographic data can be used in the decision-making process. Chris Gephart, a principal at Bayer and Becker Engineering and Kentucky registered land Surveyor, helped the group find a survey pin in the field by using GPS and paper map."
The day ended with lunch, questions, and answers with the geoscience and survey professionals.
STEM Girls Day Out was a free experiential learning opportunity for female students across Northern Kentucky/Greater Cincinnati. The Girls Day Out program was designed to promote interest in STEM careers (science, technology, engineering and math). The workshops allowed for personal and in-depth career exploration.