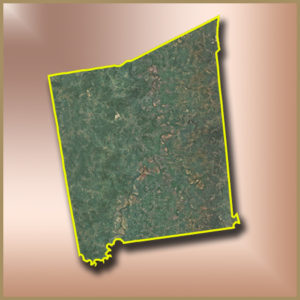 When looking for a summer treat, Rocky Road ice cream may come to mind, but a true rocky road is never a treat. Pendleton County Public Works Director Tim Antrobus received a call from an adjoining county inquiring about road repairs on Oscar Spradling Road. Oscar Spradling had turned into a "rocky road" and the determination of the county line and ownership was in question.
Once Antrobus received the inquiry he turned to Mike Moore, Pendleton County Emergency Services Director. Moore was able to give him the Global Positioning System (GPS) coordinates of where he believed the county line was located. Moore then turned to PDS to locate the county boundary line. When looking at landmarks and the GIS, it appeared that the project extent proposed by the contiguous county showed a 300 foot difference from the documentation that Pendleton County possessed.
Antrobus attended a scheduled meeting to review the boundary line with the adjacent county and mentioned he used GPS points to determine the extent of the road project. The opposing county asked, "What are GPS points?" Antrobus responded, "A good place to start."
Equipped with the substantial data, the neighboring county took on the 300 feet mapped by LINK-GIS and GPS. As a result Pendleton County public works crew saved at least two full days of work and upwards of $5,000 in materials.
The Global Positioning System (GPS) is a space-based satellite navigation system that provides location anywhere on Earth.