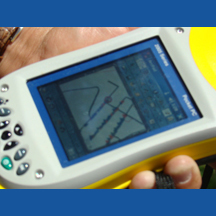 An opportunity to coordinate training with Duke Energy and to save money in the process prompted a mapping and GPS certified training course to be held in the office of the Northern Kentucky Area Planning Commission (NKAPC) on May 22nd and 23rd.
This training was led by a Trimble certified MGIS trainer, Jay Riester, who presented the GPS and GIS fundamentals from mission planning to collecting, processing, and exporting data.
Brianna Powers, Data Analyst with Duke stated, "Our initial need stemmed from the desire to collect very accurate points for georeferencing (aligning geographic data to a known location) and accurate asset locations for data integrity. Then we figured everybody's got assets! Fortunately for us, some other groups in the area were able to join and the class was a huge success."
The training was attended by representatives from Kenton and Campbell Counties Fiscal Court, Duke Energy, NKAPC, and Northern Kentucky Water District (NKWD). Cindy Minter, Director of Planning and Zoning; and Luke Mantle, Road Department Director, were in attendance to learn how to utilize GPS for asset management and other Campbell County projects. Mantle commented, "Cindy and I both really gained insight from the training." Most of the attendees had some knowledge of how to utilize GPS for mapping projects, but were interested in a better understanding of the GPS project process.
During the first day's training, attendees learned basic GPS fundamentals, how to create a project including a data dictionary, how to set up the equipment, and then went to the field to actually collect data. On the second day, attendees focused on utilizing the GPS units for advanced data collection techniques and how to utilize local continuously operating reference stations (CORS) to improve the precision of their positions after collecting real-time GPS points.
NKAPC staff member Steve Lilly, PLS, attended the training and "plans to continue the effort with GPS and utilize this training in the effort of capturing new development within Kenton County, as well as other pertinent mapping projects. GPS is critical to our data quality effort within LINK-GIS."