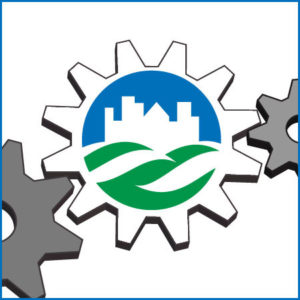 Two PDS staff members were honored earlier this month with votes of professional affirmation from their peers. Jeff Bechtold, Senior Building Official, and James Fausz, AICP, Long-Range Planning Manager, were elected to positions of leadership within their professional spheres.
Bechtold was re-elected to a three-year term as director at large of the International Codes Council (ICC). The ICC Board of Directors is comprised of 18 public safety professionals, building and fire, who volunteer to serve. The ICC and its family of organizations promote building safety and are the referenced building and fire codes in all 50 states; ICC codes form the basis of the Kentucky Building Code. The ICC is a member-driven organization consisting of 66,000 members and over 360 International, regional, state and local chapters.
Fausz was elected president-elect of the Kentucky Chapter of the American Planning Association (APA-Kentucky). He will serve as president-elect for one year, president for two years, and past president for one year. The American Planning Association includes 35,000 members from over 100 countries. Its governing structure includes 47 chapters throughout the US and 21 divisions that embrace the wide range of planning. The Kentucky Chapter brings together practitioners, planning officials, students, and interested citizens into a single and stronger community forum.
"NKAPC/PDS has a long and very distinguished history of service to its various disciplines," said Dennis Gordon, FAICP, PDS' executive director—himself a past president of APA-Kentucky and -Indiana and a former member of the APA Board of Directors. "I know from personal experience that these positions take a lot of personal time. But, I can say truthfully that my employing agencies and I got more out of those commitments than anyone can ever comprehend fully."
Bechtold and Fausz join another PDS staffer, Louis Hill, AICP, GISP, Geospatial Data Analyst, who was elected President of the Kentucky Association of Mapping Professionals (KAMP). Read about Hill's election here.
For APA-Kentucky and KAMP, these recent elections bring their presidencies full circle to where the organizations began. Trisha Brush, GISP, Director of GIS Administration, helped found and served as KAMP's first president. Former executive director Bill Bowdy, FAICP, helped to found and served as APA-Kentucky's first president.
Other PDS staff members giving back to their professions currently are: Steve Lilly, PLS, GISP, Land Surveying Analyst at PDS, is a member of the Kentucky Association of Professional Land Surveyors Board of Directors and is the organization's liaison with KAMP; Brian Sims, CBO, Chief Building Official at PDS, sits on the Board of Directors of the Code Administrators' Association of Kentucky; John Lauber, Senior Building Official, and Gary Forsyth, Associate Building Official, sit on the board of directors of the Northern Kentucky Building Inspectors' Association.