The Northern Kentucky mapLAB (NKYmapLAB) initiative wrapped up its' first year of projects last month, producing 11 high-quality poster map displays, and eight Story Maps. Story Maps are online multi-media applications that allow users to interact with maps, images, videos, embedded websites, and other documents (think PDFs).
NKYmapLAB projects help local leaders and citizens better understand issues affecting Kenton County, while highlighting the analytic capabilities of LINK-GIS. The first year's topics include:
•    Energy Efficient Construction
•    Solar Potential
•    Urban Tree Canopy
•    Parks
•    Current Bridge Conditions
•    Walkability
•    KY 536
•    Baseball Across the Region
•    Plan4Health
•    Buttermilk-Orphanage Road Realignment
•    Linden Grove Cemetery and Arboretum
NKYmapLAB products were presented at the 2015 Fall Kentucky American Planning Association Conference in Frankfort and then again at the 2015 Kentucky GIS Conference in Owensboro. In June NKYmapLAB staff will continue to share their work with GIS users from around the world, having been selected to present at the 2016 ESRI International User Conference.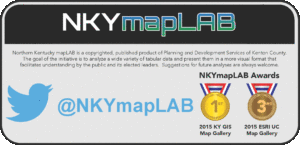 The NKYmapLAB initiative was recognized with a first place finish in the Map Gallery at the 2015 Kentucky GIS Conference and a third place finish in the Large-Format Printed Map Category at the 2015 ESRI International User Conference.
The initiative's Walkability Story Map garnered the attention of the Story Map team at ESRI and became part of their Story Map gallery on ESRI's website. View it here on the LINK-GIS site.
"While getting the attention of the GIS community is great, the real reward is being able to assist a community with an issue when they ask for it," stated Ryan Kent, GISP, part of the NKYmapLAB team.
NKYmapLAB has partnered with agencies, where mutually beneficial, in order to improve their collaborative work efforts by leveraging existing GIS capabilities, cartography, and data partnerships. One such project was created in collaboration with the City of Fort Mitchell on a proposed realignment of the Dixie Highway-Buttermilk Pike-Orphanage Road intersection.
As 2016 gets underway, NKYmapLAB has already released two products: "Trails of Kenton County" and  "Landslides in Kenton County." The initiative seeks to continue its goal of addressing one topic per month over the course of the year.
Louis Hill, GISP, the other part of the NKYmapLAB team, stated that "so far NKYmapLAB work has been very well received. It's also continued to generate requests for technical assistance on projects that require a deeper level of analysis and partnership."
For more details on NKYmapLAB, email Louis Hill, GISP, AICP, or Ryan Kent, GISP, or call them at 859.331.8980.
NKYmapLAB is available online and on Twitter @NKYmapLAB.