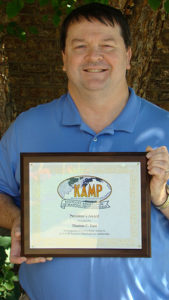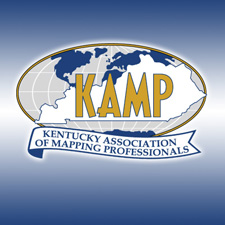 During the Kentucky Association of Mapping Professionals' (KAMP) annual conference in Louisville in September, PDS Senior GIS Specialist Tom East, GISP, was awarded KAMP's first ever President's Award.
According to the KAMP website, "This award is not presented yearly but at the discretion of the current President. This award recognizes extraordinary service to the KAMP Executive Board and members."
East has served as the treasurer for KAMP since 2012 and has initiated several efforts improving the record management, membership management, and financial management of the organization. KAMP is an organization of almost 400 professionals involved in the mapping sciences, with the stated purpose of fostering understanding and improved management and use of geospatial information throughout the Commonwealth. It also seeks to provide a mechanism for dialogue and education regarding geospatial information issues by professionals.
Along with East, other PDS staff members also participated in the conference. Senior GIS Programmer/Specialist Christy Powell, GISP, led a workshop on mobile data collection for GIS and, along with Principal GIS Programmer/Specialist Joe Busemeyer, GISP, and Principal Planner James Fausz, AICP, made a presentation about the creation of the new, all-digital, Direction 2030 comprehensive plan website.
Trisha Brush, GISP, Director of GIS Administration presented a session on the marketing of GIS services through social media. East also presented an informational session on Next Generation 9-1-1 and the essential role GIS will play in its operation.<